News:
PATH
Jaycee was the keynote speaker at the PATH Intl. 2019 Annual Conference in Denver, CO. PATH Intl. ("Professional Association of Therapeutic Horsemanship International") aims to "change and enrich lives by promoting excellence in equine-assisted activities and therapies." She spoke about Compassion, Self-care, and the Power of Horses. She emphasized the importance of maintaining hope and how horses in particular helped her move forward because of their unique, non-predatory power and emotional sensitivity. It was an emotional opening to the awards ceremony, where the power of horses to positively affect lives was celebrated with stories from around the country.
At the conference, we met people who work with at-risk youth, victims of trauma, Alzheimer's patients, and individuals with developmental and intellectual disabilities. We reconnected with colleagues from the University of Alabama and the Red Barn in Birmingham, AL about doing research into the efficacy of our JAYC school group curriculum. Stay tuned!
Jaycee's Milestone
Jaycee celebrated 10 years of freedom on August 26, 2019.
Fundraiser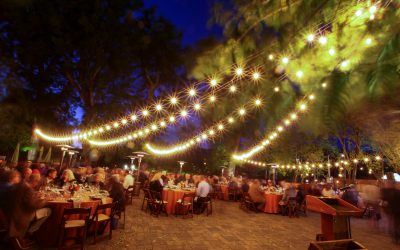 Our first annual fundraiser at the Kunde Winery was everything we hoped it would be and more! It was a sold out event, and attendees learned more about the JAYC foundation from Terry Probyn, Dr Rebecca Bailey, and Jaycee herself. With the proceeds that we raised from our first fundraiser we provided a six week Connection Focused women's group for survivors of trauma and will also provide another next year. We are also able to provide one or more hours of therapy for 10 individuals and families into the new year. The remaining funds raised will be used to continue to developing our Just Ask Yourself to Care: A Community-Building Group for school kids and caregivers. More information on this will be featured in future newsletters. Stay tuned! We celebrated by ending the night with good dancing to local band Court N' Disaster. Thank you so much to our event sponsors Diane Von Furstenberg and Trimyc Mechanical Inc. We hope to see you next year!
Women Leaders Global Forum
Dr Rebecca Bailey traveled to Reykjavik, Iceland for the Women Leaders Global Forum on November 18-20. She met female leaders from all over the world making positive change.
Team Member of the Month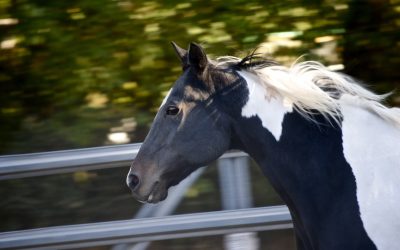 Our team at the JAYC Foundation is staffed with many valuable faculty members both human and animal. One of the most amazing and insightful members is a black and white horse named Velcro. She has the uncanny ability to assess the client and situation that is brought to her. When we step into the arena with "Dr. Velcro" I know she will help facilitate the session and take it in the direction it needs to go. I have complete faith in her insights and her ability to effect a real change in people's perspective.
Holiday Gifts
Please consider doing some of your holiday shopping to benefit the work of our foundation!

Calendars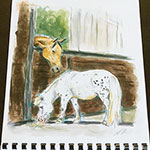 We have a limited number of 2020 calendars hand done by Cheryl Cotman. They feature the horses we use in our program. She captured them beautifully.
Dog Bandanas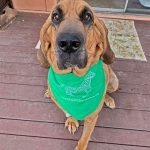 Now everyone on your team can support the JAYC Foundation! These JAYC Foundation Dog Bandanas make great stocking stuffers.
Amazon Smile
If you shop on Amazon, please shop through Smile.Amazon.com: to send 0.5% of eligible purchases to the JAYC Foundation (with no extra charge to you)!
Rosalynn
Rosalynn McGinnis, a survivor of 20 years in captivity, was featured in a Dr Oz special on November 18.
The JAYC Foundation has been supporting Rosalynn and her nine children since they escaped three years ago, and their story remind us of why we have the foundation in the first place. As is the case for many victims, she escaped she without monetary resources and had nowhere to return to. The foundation has provided her with equine-assisted and psychoeducational therapy, and helped her begin to rebuild her life.
Rosalynn and her children have made a big impression on the JAYC Foundation team. "Rosalynn has a way of seeing the best and just doesn't give up," says psychologist Dr Rebecca Bailey, "She has created a childhood for each and every one of her amazing children." Rosalynn explained in her interview how she was compelled to keep going to protect her children from their captor's abuse. Many women sacrifice everything to protect their children, even if it means staying in captivity.
She continues to parent her children and has worked hard to rebuild a life for them. We know her to be exceptionally capable and able to see ways forward in difficult situations. Rosalynn was one of the first people to call to check in with our facility in Sonoma after the devastating October 2017 wildfires. "Rosalynn called and offered to help rebuild– and because it was Rosalynn we know she really meant it!"
Jaycee Dugard, founder of the JAYC Foundation, says "Rosalynn is one of the most amazing people I know. She has endured so much but come out with her spirit intact and a sense of humor to match. Thinking of her and her family during the holidays."
Please consider donating directly to Rosalynn and her family via GoFundMe.